Skip to Main Content
It looks like you're using Internet Explorer 11 or older. This website works best with modern browsers such as the latest versions of Chrome, Firefox, Safari, and Edge. If you continue with this browser, you may see unexpected results.
Dan Guerrero Performing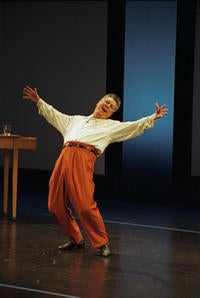 The exuberant Dan Guerrero performs his critically acclaimed one-man show, ¡Gaytino!
Dan Guerrero 1963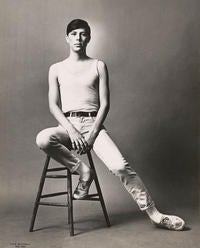 Guerrero acted and danced in off-Broadway productions early in his career. This photograph was taken in 1963 in New York City by photographer Jack Mitchell.
"Danny Guerrero" Dancing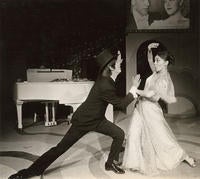 "Danny Guerrero" dancing in Ben Bagley's musical comedy The Decline and Fall of the Entire World as Seen Through the Eyes of Cole Porter. Performed at the Washington Theater Club.
Broadway Talent Agent Dan Guerrero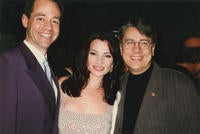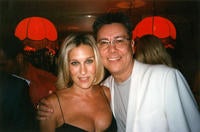 As a successful Broadway talent agent Dan Guerrero discovered some of Hollywood's most well-known celebrities, including actresses Fran Drescher (left), Sarah Jessica Parker (right), and Salma Hayek
Guerrero Directing Linda Ronstadt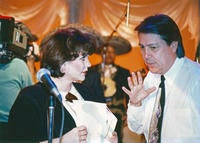 Directing singer Linda Ronstadt who performed for the 100th El Show de Paul Rodriguez, 1992.
Producer-Director Guerrero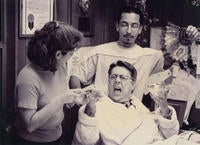 As a producer-director, Guerrero hams 
it up with the make-up team.
Guerrero Directing a Rehearsal of ¡Adelita!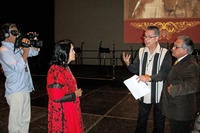 Guerrero directing a rehearsal of ¡Adelita! The Women of the Mexican Revolution with playwright Luis Valdez and UFW labor leader Dolores Huerta at the 2009 San José Mexican Heritage and Mariachi Festival. Valdez introduced Huerta as a modern-day "Adelita." Linda Ronstadt was artistic director and Guerrero produced and directed 
the show.
Guerrero with the Mexican American Legal Defense and Educational Fund
Guerrero's advocacy has included joining with the Mexican American Legal Defense and Educational Fund to speak out against Arizona SB 1070, a 2010 bill that many accused of encouraging the racial profiling of Latinos.
Guerrero and Carlos Almaraz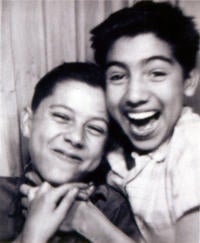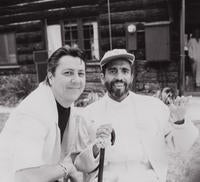 Guerrero's close friendship with artist Carlos Almaraz endured until Almaraz's untimely death in 1989 due to complications from AIDS. Almaraz is considered to be one of the most influential Chicano artists.
Dan and Lalo Guerrero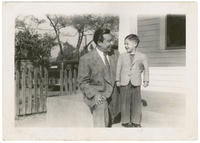 Dan Guerrero in Los Angeles in the mid 1940s with his father, Lalo Guerrero, considered by many to be the "father of Chicano music."
Guerrero as Conrad Birdie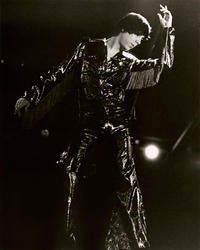 Guerrero performed the part of Conrad Birdie in the production of Bye Bye Birdie at the Sharon Playhouse in Connecticut. Reviewer Michele Gerrig wrote: "Danny Guerrero beautifully belts out Conrad's rocking numbers, swivels hips in Elvis fashion, guzzles down cans of beer, and struts about in true super-star style."
Guerrero at the White House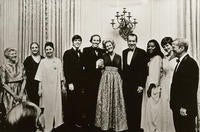 Guerrero also performed the Ben Bagley musical at the White House for President and Mrs. Nixon in January 1970. This was the first of various meetings with U.S. presidents.
Head Producer Dan Guerrero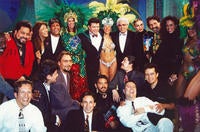 Head producer Dan Guerrero with 
a bevy of celebrities and showgirls at the 100th El Show de Paul Rodriguez. This was the first national, bilingual talk and sketch-comedy show where many luminaries were interviewed, including Cesar Chávez and Jack Lemmon. The show ran from 1990-1994.
Guerrero with Nancy Pelosi and Sonia Sotomayor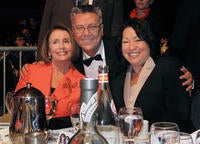 With tablemates Nancy Pelosi, Speaker of the House of Representatives, and Supreme Court Justice Sonia Sotomayor at the 32nd Annual Congressional Hispanic Caucus Institute's Awards Gala in Washington, D.C. honoring Latinos in the arts. Dan Guerrero accepted a medal on behalf of his father Lalo Guerrero immediately following remarks by President Barack Obama.
Dan and Lalo Guerrero 1998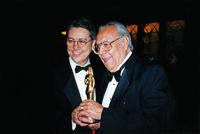 Guerrero posing alongside his father, Lalo Guerrero, who in 1998 received an ALMA (American Latino Media Arts) award from the National Council of La Raza. The award celebrates Latinos in the entertainment industry.
Guerrero Directing Still Life by Harry Clark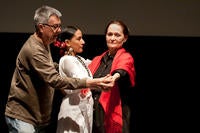 Guerrero directing Still Life by Harry Clark, starring Beth Grant as Georgia O'Keeffe and Zilah Mendoza as Frida Kahlo. At the Los Angeles Theatre Center, 2011.
Guerrero's Support for Cesar Chávez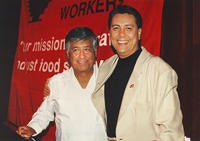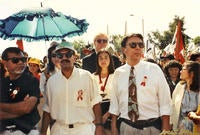 Guerrero's support for Cesar Chávez (depicted with Guerrero in the top photograph) and the plight of farm workers ran deep. The death of Chávez in April 1993 brought many supporters from throughout the country to his funeral including, from left to right: Little Joe (José María De León Hernández) from the band Little Joe y la Familia, actress Rosanna DeSoto, actor "Cheech" Marin, actress Julie Carmen, actor Ed Begley, Jr., and Dan Guerrero. Bottom photograph by Jocelyn Sherman.
---
Copyright © 2008-2019 The Regents of the University of California, All Rights Reserved.
UCSB Library (805) 893-2478 • Music Library (805) 893-2641 • UCSB, Santa Barbara, CA 93106-9010
Contact Us • Policies