Skip to Main Content
It looks like you're using Internet Explorer 11 or older. This website works best with modern browsers such as the latest versions of Chrome, Firefox, Safari, and Edge. If you continue with this browser, you may see unexpected results.
Introductory Text
The collection documents Latino cultural and entertainment history of recent years, focusing on Dan Guerrero's professional life in the world of entertainment as well as his personal family life. It includes video and audio tapes of selected programming, scripts, publicity items, programs, and posters relating to the Latino community. There are photographs relative to Mexican American art and culture, transcripts of interviews with various members of the Latino entertainment industry. A significant amount of correspondence, audio tapes, video tapes, color slides and other items concern his close friend, the late Carlos Almaraz, a veteran Chicano artist. Other notable celebrities represented are Vikki Carr, Lorenzo Lamas, Cheech Marin, Ricardo Montalban, Kenny Ortega, Paul Rodriguez, Cesar Romero, Lalo Schifrin, Edward James Olmos and Jimmy Smits. The collection is of great value to the study and understanding of Latino entertainment and the arts in the last decades of the 20th Century.
Exhibition Poster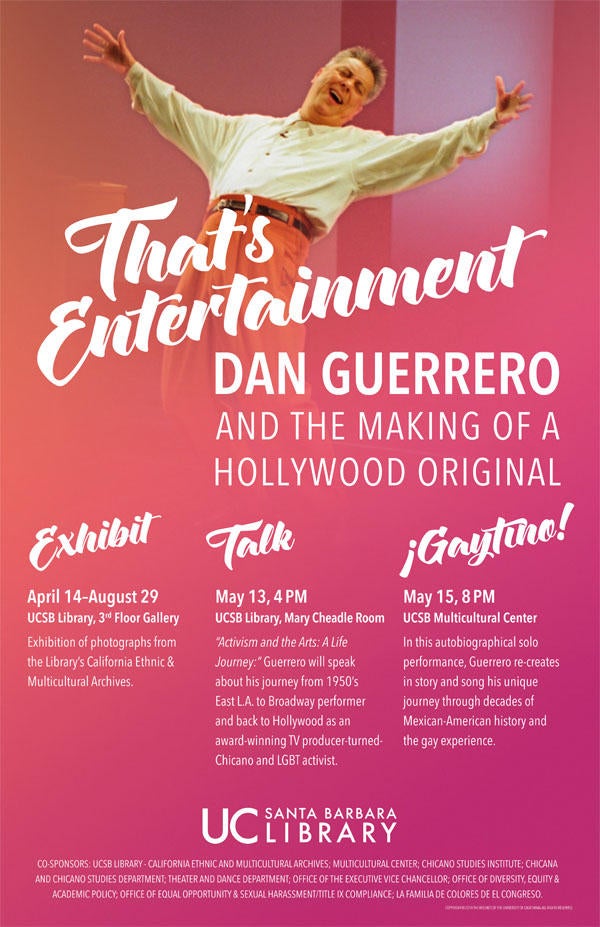 ---
Copyright © 2008-2019 The Regents of the University of California, All Rights Reserved.
UCSB Library (805) 893-2478 • Music Library (805) 893-2641 • UCSB, Santa Barbara, CA 93106-9010
Contact Us • Policies